Paper tube for sprue and runner in a good performance pouring system
HuaGuang's paper tube can be used in anywhere in a gating/pouring system.
Brief Introduction of our paper tube product
The Paper tube is an environment-friendly and energy-saving product for casting grandly launched by our company which is an ideal substitute for the ceramic sprue tube in some casting process. Therefore, there is no doubt at all that it can bring you less cost and much more convenience.
Spruce is a vertical passage connects the pouring basin to the runner or ingate. It is generally made tapered downward to avoid aspiration of air. The cross section of the sprue may be square, rectangular, or circular.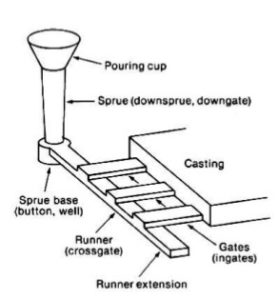 The paper tube was developed by the company's professional R&D team and experts together with professors from Xi'an Jiaotong University through years of repeated practice.
This kind of paper tube is mainly applied to casting methods such as LFC (Lost Foam Casting), EPC(expendable pattern casting, or FMC, Full Mold Casting), traditional Sand Casting and Precoated Sand Casting. In a whole pouring process, the paper sprues and runners plays a positive role in reducing the reject rate, improving the quality of reclaimed sand and reducing the intensity of operations. Our paper tube product is a revolution in the runners for casting industry. Learn more>
The paper sprue tube can improve castings quality, reduce scrap, improve the quality of reclaimed sand, reduce work intensity.
TYPICAL CHEMICAL ANALYSIS
Al2O3:    10-15%
SIO2;      40-45%
FE2O3:     0.8-1.5%
K2O + Na2O: 0.3-0.5%
PHYSICAL PROPERTIES
Colour: brown
Refractory: 1500oC
Max Casting Temperature available: 1460oC