Easy cut off item for riser removal
By using this ceramic item between riser and casting body, it is easy to remove the riser just with hammer after pouring finish. Make your work more efficient, reduce your cleaning time and avoid the flaw caused by cutting machine when removing the riser. The most important thing is it can decrease or avoid the hot spot of the bottom and keep the mechanical performance of the casting piece when we use this item in casting process.
Usage:
It is match with HG-AN series exothermic Insulation Riser Sleeves.
Size: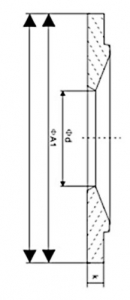 Riser Size

AN04
AN05
AN06
AN07
AN08
AN09
AN10
AN11
AN12
A1

66
76
83
97
109
119
127
139
155